Join Conservation Legacy!
Exciting, challenging, rewarding—there is no one word to describe participating in a Conservation Legacy Program. You'll learn, but it will probably take sweat. You'll complete great service projects, but it won't always be easy. You'll meet some great people, but you won't always see eye-to-eye. It's about learning, working hard for the environment and our communities, and giving something back. We're glad you're interested in joining us!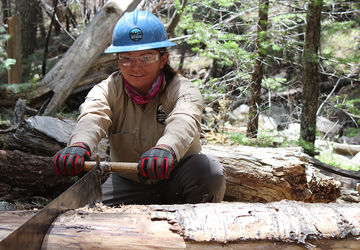 Positions by program
To learn more about current opportunities and to apply, visit individual program websites below:
Position Types
Below is a summary of position types by program.
| Program Models: | Youth | Conservation Corps Crew | Veterans Fire Corps | Individual Placements | Leadership |
| --- | --- | --- | --- | --- | --- |
| Arizona Conservation Corps | Yes | Yes | Yes | Yes | Yes |
| Conservation Corps New Mexico | No | Yes | Yes | No | Yes |
| Great Appalachian Valley Conservation Corps | Yes | Yes | No | No | Yes |
| Southeast Conservation Corps | Yes | Yes | Yes | Yes | Yes |
| Southwest Conservation Corps | Yes | Yes | Yes | Yes | Yes |
| Stewards Individual Placements | No | No | No | Yes | Yes |
| Preserve America Youth Summit | Yes | No | No | No | No |
William, VFC Alumni

Veterans Fire Corps

This program has helped me find the sense of purpose I lost after exiting the Marine Corps; it's given me the foot in the door I was looking for. This is the kind of work that fills you with that sense of pride again" 

Ian, Southeast Conservation Corps

Conservation Corps Crews

My time with the Southeast Conservation Corps and Americorps has been a literal life-changing experience that continues to shape who I am and what I do."

Crew 311

Ancestral Lands

So far, each job we've had has exceeded our partner's expectations. In Tumacacori, they were expecting us to pull invasive species and water Cottonwood trees. Little did they know we would complete those tasks in two days with four work days to spare."

Anthony, Southwest Conservation Corps NPS Intern

Individual Placements

I have worked throughout Mesa Verde National Park. My highlights have been collaborative projects and having the freedom to be outside whenever I wanted. I believe this experience has built upon the skills I already possess while giving me new skills that can be used for a wide array of careers."
Who We Serve
Conservation Legacy emphasizes the recruitment and engagement of diverse teams and individuals who learn from each other and their projects in a supportive environment. In selecting participants, Conservation Legacy encourages all types of diversity including, but not limited to; race, ethnicity, gender, sexual orientation, gender identity, age, social-economic, and disability.
Conservation Legacy also emphasizes the engagement of local individuals who represent the communities in which they serve. Conservation Legacy intentionally searches for funding sources and program options to support the goal of offering experiences to a wide range of participants.